Blog
Monday, April 07, 2003
7:55 PM :: Stephen (contact)
McDonalds and the Mexicans: In a stunning burst of cultural sensitivity, McDonalds has begun a new advertising campaign in Italy, featuring a big, sleeping Mexican resting barefoot against a cactus.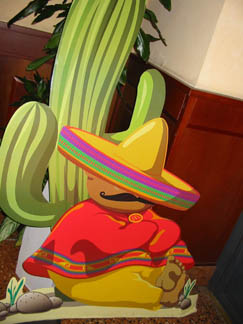 The campaign is intended to showcase the "McMexico" sandwich, which apparently is all the rage in Rome. I never tried it myself, but after a friend decided to grab a snack in the McDonalds on the Via del Corso, I couldn't help snapping a few digital photos. The main promotional poster, shown below, lapses from Italian to Spanish in encouraging customers to try "the flavor of Mexico," accompanied by depictions of singing and dancing Mexicans.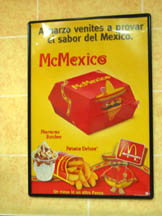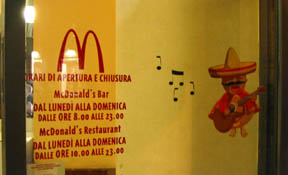 As the McDonalds marketing geniuses should be aware, the "sleepy Mexican leaning against cactus" is one of the "least appropriate symbols" for symbolizing Mexican culture, according to a groundbreaking study by University of Colorado professor Sandra Moriarty. More appropriate symbols, says Moriarty, include "family scenes (in kitchen, at table, sitting on porch)" or depictions of "children playing with handmade toys or family dog." (I don't know about you, but when I see kids playing with a dog, I think of Mexicans!) Moriarty also concludes that "old Native American women" are appropriate symbols for vegetarians, and that mothers of young children do not respond well to symbols involving "war, violence, sex, starvation, social discontent, anger, [or] aggression (the Teenage Mutant Ninja Turtles, for example)."

Far be it from me to challenge the experts--either Moriarty or McDonalds--as to which marketing symbols are appropriate and which are not. All I can say is that if McDonalds ever tried these mustachioed caricatures in the U.S., they'd have their heads handed to them.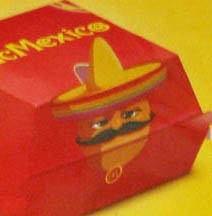 Anybody know the email address for La Raza?

---
::